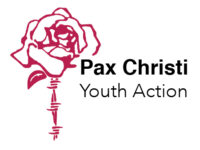 Our Pax Christi Youth Action sheets are designed for use in classrooms and youth groups. Offer them to students for meeting service hour requirements, or plan to do them together as a group. Use in Confirmation classes, social action teams, and faith formation. Each activity offered follows the Pax Christi focal points of prayer, study, and action. This helps students to better understand and develop the spirituality as well as the research that supports acting for justice and peace in our world.
The summary of this sheet reads:
There are many ways to advocate for a cause. People join groups that try to bring about change, demonstrate in the streets, give speeches, contact friends and associates in person or on social media, and write letters or articles. Many don't realize how effective writing an advocacy letter can be. A physical letter almost always gets more attention than an email or pre-printed message. In this activity you will be writing a multi-paragraph letter to advocate for a cause.
You are welcome to download this pdf file for free to follow it for your project, classroom, or group. We welcome your feedback, so if you have a moment, let us know how it went. Also, please feel welcome to send us suggestions for future action sheets, and please come back again to check for new releases.